Rosie loves to invent strange and glorious contraptions, but ever since her Uncle Fred laughed at the magnificent cheese hat she invented for him, Rosie has been keeping her inventions to herself. But then her Great-Great-Aunt Rose comes to visit (you'll know that spotty headscarf from the famous WW2 'We Can Do It!' poster), and she changes everything. When Rosie crashes to the ground in her cheese-copter after mere moments in the air, Great-Great-Aunt Rose cries:
Your brilliant first flop was a raging success! Come on, let's get busy and on to the next!
This is a gorgeous picture book about following your dreams and persisting in the face of each 'perfect failure'. The illustrations are jam-packed with unusual, funny objects to spot together, and you'll have great fun working out exactly how Rosie's inventions do or don't do what they're meant to do. Perhaps you'll be inspired to 'build gizmos and gadgets and doohickeys' together too!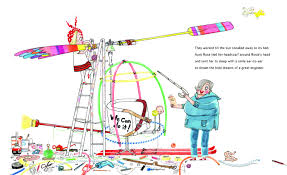 From the creators of Iggy Peck, Architect – a beautiful picture book that's a firm favourite amongst my youngest readers, and one of Time magazine's Top 10 Children's Books of 2007 – Rosie Revere, Engineer has the same style of colourful pictures and rhyming words. Iggy fans won't be disappointed, and the eagle-eyed will even spot him in the pages.
Rosie Revere, Engineer by Andrea Beaty, Illustrated by David Roberts, 32 pages. 4-6 year olds