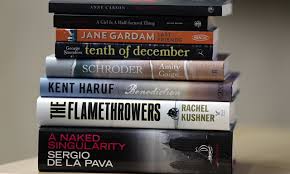 The recently established Folio Prize published their first shortlist last week. The £40,000 prize which aims to 'to celebrate the best fiction of our time, regardless of form or genre, and to bring it to the attention of as many readers as possible' is the first book prize to be open to all English language fiction from around the world. The Folio Prize was set up on the back of the dismal 2011 Booker Prize which was deemed too low-brow by the literary community.
 There seem to be a flurry of book prizes out there. Why so many? The reading public love book prizes as they do the sifting for us. The publishers love them even more as they are an extremely effective and cheap way of marketing books. I don't want to be a slave to prizes and they don't always get it right, but they are definitively worth looking at.  
There are eight books on the first shortlist: seven novels, one of which in verse, and one short story collection. Five of the writers are American, one is Canadian and two British based.
The list is dominated by new names who, according to the judges, deserve praise for being experimental and taking risks. Clearly, the Folio Prize would like to position itself as a cutting-edge, high-brow sort of literary prize.
Red Doc by Anne Carson
Schroder by Amity Gaige
Last Friends by Jane Gardam
Benediction by Kent Haruf
The Flame Throwers by Rachel Kushner
A Girl Is A Half-Formed Thing by Eimear McBride
A Naked Singularity by Sergio De La Pava
Tenth of December by George Saunders
I've read The Flame Throwers, a story set in the 1970s about a young budding land artist and her journey from the New York City art scene to the radical political scene in Rome, via the higher echelons of Italian society. A convincing tale of self-discovery with fabulous descriptions of the fickle, ruthless art scene and the arrogant Italian upper class. A modern-day version of Henry James' The Portrait of a Lady.  It is a good, although not perfect, book; Kushner gets side-tracked at times and introduces to many sub-plots. Having said that, I think she is a very talented author, definitively one to watch.
The winner of the Folio Prize will be announced on 10th March. Will keep you posted.