People who put up Christmas decorations early are happier and more in touch with their inner child than those who don't, according to a recent report by psychologists. I love this news as I am a bit of a self-confessed Christmas fanatic. Perhaps it's the Scandinavian in me, but I just can't get enough of sweet covered gingerbread houses, candlelit windowsills, roaring fireplaces, the smell of incense and mulled wine. So no surprise then that suggesting books as Christmas presents is one of my absolute favourite things to do.
FICTION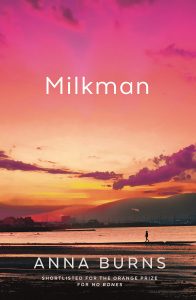 Starting off with my favourite recent, if not this year's, read: Milkman by Anna Burns, the winner of the Man Booker Prize 2018.  Milkman is one of those rare books that has everything. Humour, seriousness, depth, originality, nuanced characters, well-crafted prose and, most crucially, something important to say. It's the story of an 18-year girl living through 'the Troubles' in Northern Ireland in the 1970s. Miserable as it might sound, this book is a firework of a novel.
Stories based on Greek myths have been all the rage this year and we've reviewed three that left us eager to read more, The Silence of the Girls by Pat Barker, Circe by Madeline Miller and Home Fire by Kamila Shamsie. Whether you're looking for a present for a Classic student, a novice to Greek myths or simply someone who enjoys a good story, these books will do. New here is the female perspective, not something usually dwelt on too much in the original texts. And perhaps best of all, they are infinitely more accessible than the originals.
We loved chronicler of modern life David Szalay's All That Man Is and Spring. His new book Turbulence, just published, is twelve inter-linked stories of people on the move around the world on airplanes. A minor character in one story becomes the central in the next, almost like a story relay. As the title suggest, all is not smooth sailing for our protagonists. We have a mother unable to console her daughter who's just discovered her child is blind, a woman standing up for her abused sister, a mother sick with worry for her adult son's cancer, all somehow struggling to communicate. Szalay's stories hold up a mirror to the transitory yet connected way we live now.
A new Murakami book is always a publishing event and here one comes, just in time for Christmas. Killing Commendatore is the story of a nine month period in the life of a portrait painter. Newly separated from his wife, he holes up in a mountaintop retreat where his discovery of a hidden painting sets in train a circular series of extraordinary events that reveal aspects of himself – and the world of instincts and ideas – that both change him forever and give him back his future. Disconcerting, mysterious and riveting and, in it's beautiful hardcover, a perfect present for a Murakami fan or newcomer.
Rachel Kushner's The Mars Room tells the story of Romy Hall, a 29-year-old former lap dancer convicted of murdering a client who was stalking her. Romy is embarking upon two consecutive life sentences (plus six years) at a Women's Correctional Facility in California's Central Valley. Not a cheerful read exactly, but one that lays bare the shortcomings of the American justice and penal systems and the circumstances of many of those at the margin of American society.
Sally Rooney is the latest up-and-coming literary star to achieve that elusive hat-trick of pleasing both the reading public, critics and booksellers. Her second book Normal People will appeal to 25-year-olds and 50-year-olds alike. It's a wonderful old-fashioned love story with a modern twist that shows you what it's like to be young today. It also somehow transported my back to my own fumbling first experiences with love. Highly recommended.
Go, Went, Gone by Jenny Erpenbeck. Richard is a widower and a recently retired professor of Classics. His house is quiet and his days are empty of events but his mind is active, and into this void rushes the plight of a group of refugees and asylum seekers. This is a book that offers an intelligent fictionalised response to the refugee crisis by distilling the unimaginable scale and horror of a worldwide problem to the personal stories of a few people, played out in today's Berlin. Full of generosity and humanity, it manages to be wide‐ranging and universal and yet astonishingly simple.
Just like funny films, funny novels are far and few between. Here's a quartet of books that made us laugh in 2018. You can safely gift these to a fun loving friend. Wilful Disregard by Lena Anderson, Convenience Store Woman by Sayaka Murata, Less by Andrew Sean Greer and Shyness and Dignity by Dag Solstad. Love, particularly of the failed kind, is pivotal to all these stories. Is there any part of life in which people will do more desperately stupid things?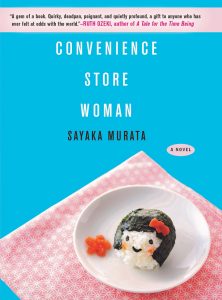 Mr Peacock's Possession by Lydia Syson. In the late 1800s – a time of exploration and colonisation – a family of settlers departs from New Zealand for a remote volcanic island they have been told is uninhabited but fertile. Mr and Mrs Peacock and their six children hope to build a new home, grow crops, tend animals, and tame the wild place known as 'Blackbird Island'.  Their idyllic little corner of Eden turns out to be anything but, and when one of the children goes missing dark secrets from the past emerge and threaten to destroy them all. Mr Peacock's Possessions by Lydia Syson is a wonderfully compelling book.
China Dream by exiled author Ma Jian is a biting political satire set in current day China. Ma Daode is the director of the China Dream Bureau whose purpose it is to ensure that Xi Jinping's ideas of a 'rejuvenated China' enter the mind of every resident in Daode's city. But disturbing memories from the past keep high-jacking Daode's own thoughts and his numerous mistresses start complicating his life. Hypocrisy, brutality, corruption and oppression from a fearless critic of Chinese authorities.
NON-FICTION
Piled up next to the tills this Christmas, you'll be sure to find copies of run-away success author Yuval Harari's (Sapiens and Homo Deus) latest book 21 Lessons for the 21st Century. A book we suspect will end up under quite a few Christmas trees this year.  We have mixed feelings about this book, so how about reading our review before you buy it?
Becoming by Michelle Obama. Michelle Obama is no typical First Lady. From growing up in one of Chicago's tougher neighbourhoods to becoming the first ever black presidential wife to the first ever black president. A graduate of two Ivy league universities, a successful corporate lawyer and later public service employee, Michelle Obama's journey is nothing short of extraordinary. She tells it here with warmth, humour and self-deprecation. A perfect Christmas present.
The Wonder Down Under – A User's Guide to the Vagina by Ellen Støkken Dahl and Nina Brochmann. It's time to demystify the female genitals. Two Oslo-based medical students and sex educators have decided to lift the veil. With frankness and humour, Brochmann and Dahl tackle periods, discharge, douchebags, contraception, fertility and sex, in all shapes and forms, plus a host of other issues. A breath of fresh air from two hugely inspirational young women.
Validated:The Makeup of Val Garland by Val Garland is a visually stunning photo book by make-up artist extraordinaire Val Garland. Using faces as canvasses and make-up as paint, Garland bends and twists our notion of beauty in extraordinary ways. What struck me with Garland's work is the feminine power it conveys. Capturing it all are photographers such as Mario Testino, Nick Knight and Sølve Sundsbø. Garland walks us through her career in stunning images and entertaining text. Don't expect to emerge from a session with Val with your eyebrows still intact. Anything goes as far as make-up is concerned. Icing sugar? Pencil shaving? Elastic bands? This is what make-up art looks like.
Chernobyl: History of a Tragedy by Serhil Plokhy just won the Baillie Gifford Prize for non-fiction (formerly Samuel Johnson Prize). Plokhy, now a professor of Ukrainian history at Harvard, lived 500 km downstream from the Chernobyl nuclear reactor when it exploded in 1986. Unable to write about it for years, Plokhy has only now felt he had the necessary distance to do so. This book reads like a thriller and shows how the Chernobyl accident set off events that shaped Russia as it is today.
In Extremis: the Life of War Correspondent Marie Colvin by Lindsey Hilsum. War reporter Marie Colvin, killed by government forces in Syria in 2016, worked in the world's most dangerous places throughout her career. In In Extremis, fellow war reporter Lindsey Hilsum tells her life story, a story full of danger, recklessness, hard-drinking, complicated relationships and a die-hard commitment to bare witness and change the world.
Speeches of Note compiled by Shaun Usher follows on from his hugely successful Letters of Note (2013), Lists of Note (2014) and More Letters of Note (2017). As well as the usual suspects, Queen Elizabeth II, Nelson Mandela, Albert Einstein there are some left field entries here such as Kermit the Frog, Nick Cave, Ursula Le Guin and (a pre-princess) Meghan Markle. It also contains some speeches never delivered, like President Nixon's announcement should Buzz Aldrin and Neil Armstrong get stuck on the moon. These really are the perfect Christmas present books, beautifully executed and perfect for browsing.
Wilding by Isabella Tree. Eighteen years ago, the owners of Knepp castle, a large estate in South England, decided to close down their farming operations, fire their employees, sell off their heavy machinery and let nature reclaim their 3,500 acre property. Wilding by Isabella Tree, tells the story of the extraordinary process of re-wilding Knepp, a pioneering project of ecology and environmentalism.
COOKBOOKS
Ottolenghi Simple by Yotam Ottolenghi. For me, Ottolenghi's cookbooks never disappoint. It's more a question of how many you have space for in your kitchen. This one should be particularly attractive for busy people or people who get intimidated by Ottolenghi's endless ingredient lists. I have to say a I rarely cook everyday meals from his books, exactly for that reason, so this one will be an useful addition to my shelf.
The Foreign Cinema Cookbook: Recipes and Stories Under the Stars by Gayle Prire and John Clark. Combine a romantic fairy light covered courtyard in San Francisco, a large cinema screen which shows foreign films, delicious Mediterranean/Californian/North African food and a glamorous husband and wife team and you have the legendary The Foreign Cinema restaurant. Clark and Prire have gathered their most treasured recipes and mixed in stunning photos to create a dream Christmas present.
CHILDREN'S BOOKS
Mary Poppins by P. L Travers and Lauren Child. With the advent of the much-hyped Mary Poppins movie sequel, this classic book is ripe for reappraisal and a new enthralled readership. Using her trademark combination of pattern and collage, Children's Laureate Lauren Child has fabulously reimagined the illustrations of Miss Poppins' time at number 17 Cherry Tree Lane. Significantly more surreal than its famous cinematic offspring, Mary Poppins is peculiar in the most charming way. An edition to cherish. 8-11 years.
The Silk Roads: A New History of the World – Illustrated Edition by Peter Frankopan and Neil Packer. If you're looking for a gift for a bright, curious and questioning young reader, then look no further. This sumptuous new history is one of the most impressive non-fiction books of 2018. Peter Frankopan presents the Silk Roads as a web of goods, people and ideas, interflowing between east and west, encouraging the reader to think about the interconnected nature of our global history. An original and stimulating read for our next generation of historians. Teen/ YA.
The Colour of the Sun by David Almond. One of our favourite children's books of 2018, this is a luminous and wonderful read. Ostensibly the story of a young boy on the trail of a suspected killer, it's actually a meditation on life and death, the intensity of adolescence, and as David Almond himself says, the wonders of 'this beautiful, weird, extraordinary world.' Shortlisted for the Costa Children's Book Award, it deserves to win every prize going. Stunning. Teen/ YA.
After the Fire by Will Hill. This intense and original YA Book Prize winner is loosely based on the Waco siege of 1993. Told through the eyes of child survivor Moonbeam, it is a stunning depiction of the lead-up to, and aftermath of an armed siege on a Texan cult compound. What happens to the children of these cults, and how do they process the horrors they've seen? Dark, compelling and accomplished, this is highly recommended for open minded teens. Teen/ YA.
Through the Water Curtain and Other Tales From Around the World By Cornelia Funke. Many young readers are familiar with the fantastical books of Cornelia Funke. This lovely anthology is her own personal selection of fairy tales from around the globe. From Siberia to Japan, we celebrate mysterious, powerful, and sometimes chilling storytelling. 'The magic of rose-covered castles and shoes filled with blood.' A gorgeously produced hardback from Pushkin Press, these are lesser-known tales, and offer an intriguing alternative to the usual fairytale offering. 8-11 years.
I Am the Seed That Grew the Tree by Fiona Waters. Here is an utterly delightful book, one to press into the eager hands of all young (and old) readers. Containing a nature poem for every single day of the year, it's a simple idea, beautifully executed. Poets both ancient and modern are represented and full colour illustrations accompany each poem, taking us through the seasons and melding nature, verse and art. The love and attention that has gone into this collection is heartwarming. 8-11 years.
There's no proper Christmas without a David Walliams book under the tree so here is this year's offering: The Ice Monster. We're in London, 1899. Meet Elsie, the 10-year-old heroine of our tale. Recently escaped from Wormly Hall Orphanage, she's about to embark on a transition from barefoot urchin to world famous adventurer, in less time than it takes to say "another fizzingly fabulous book from David Walliams." This is a classic Walliams book. Funny, energetic, and with a well-judged dollop of sentimentality. 8-11 years.
For the nostalgic parent, here's a perennial classic in new translation by the brilliant Michael Morpurgo. Imagine being able to watch the sun set forty-three times in one day, heating your breakfast over a volcano, and hitching an interplanetary ride with a flock of birds. Mere details in the life of the Little Prince, the questing innocent who drops to Earth from the stars, in Antoine de Saint-Exupéry's famous fable. 8-11 years.
Still looking? Visit our large archive of fiction, non-fiction or children's book reviews (Young Readers) for more inspiration.
Happy Christmas from all of us at Bookstoker!
Best Books of 2018 from The Guardian
Best Books of 2018 from The Washington Post
New York Times Critics' Top Books of 2018