Finding beautiful books to give as presents used to be tricky. Not any longer. The arrival of e-books seemed to have propelled publishers into spending more thought and money on striking book covers. So walking into a well-stocked bookstore these days is no longer only a treat for your mind but a feast for your eyes as well. The bookshops are brimming with temptations: colourful, intelligent, artistic even tactile book covers. Combine that with some clever content and you're in gift heaven. If there ever was a place you could kill off that Christmas shopping list with one stab, it's in a bookshop.
Fiction
The 2017 Man Booker Prize winner Lincoln in the Bardo by George Saunders would make a great present for the ambitious reader (this is no light beach read!). It's a book with a cacophony of 166 different voices portraying the Bardo (a temporary state in between death and re-birth in the Buddhist faith) of President Abraham Lincoln's 11-year-old son Willie. Try to get hold of the UK hardcopy version published by Bloomsbury, it's much better looking that the Random House version.
2017 has been Margaret Atwood's year with a surge in sales of The Handmaid's Tale (1985), following the election of Donald Trump, and two astonishingly successful TV adaptations of that book and Alias Grace (1996). The absolutely gorgeous hardcopy version of The Handmaid's Tale that has just been published would make a lovely present. Alternatively, we wouldn't mind a collection of her books in these matching paperbacks editions…
Ali Smith's latest novels Autumn and Winter have both been critical successes. Autumn examines the here and now as Smith tries to make some sense out of a badly fractured post-Brexit Britain. In Winter, Smith continues her response to our turbulent times touching upon the migration crisis. Why not pair them up in their handsome looking David Hockney covers and make it a gift?
The more we read Steinbeck, the more we realise what a genius he was.  Few authors succeed in getting under the skin of his characters quite like Steinbeck, particularly those in dire straits. We keep adding his books to our pile of reading. A little trio of some of his most celebrated books would make a good gift and get any reader hooked, and once you start reading Steinbeck you can't stop until you've read them all. We suggest starting with Of Mice and Men, Cannery Row and The Grapes of Wrath.
One of the surprise finds of the year was Ian McGuire's The North Water. It ain't for everyone this book as it's very violent and raw. Having said that, few books have generated as much response amongst our readers as this one. Those who like it LOVE it and there are quite a few that do. The novel, set in 1859, tells the story of 27-year-old surgeon Patrick Sumner, who joins an ill-fated whaling expedition to the Artic. It's a nail-biting thriller, which will keep you on your toes to the very last page.
A Gentleman In Moscow by Amor Towles. It's 1922. We are in Moscow's most distinguished hotel and one of its permanent guests, the unrepentant aristocrat Count Alexander Ilyich Rostov, has just been sentenced to a life in exile inside the hotel 'never to set foot outside of The Metropol again.' So starts A Gentleman in Moscow, a novel that it's nearly impossible not to fall in love with, a true feel good story. It's not going to change your life, but Amor Towels' book (also author of Rules of Civility) will entertain and delight with wonderfully crafted characters and enviably elegant writing.
Golden Hill by Frances Spufford was one of our favourite debut novels of 2017. We're in New York in 1746, a small frontier town on the tip of Manhattan Island. One rainy autumn night, a mysterious, handsome stranger, fresh off the long Atlantic crossing from England, turns up at a counting house on Golden Hill Street in Manhattan. The enigmatic young man has a suspicious yet compelling proposition.This is a meticulously researched and cleverly plotted first novel and a thrilling and pacy read.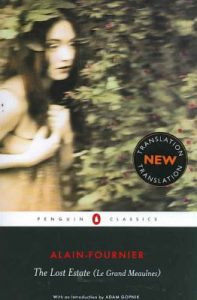 The Lost Estate (Le Grand Meaulnes) by Henri Alain-Fournier. Did this great French classic inspire F. Scott Fitzgerald to write his masterpiece The Great Gatsby? Some people think so. They both share the theme of consuming love, fabulous parties, an enigmatic hero and a passive narrator. Even the title is similar. Pair them up, give them to someone and let them figure it out.
Non-fiction
The Unfinished Palazzo: Life, love and Art in Venice by Judith Mackrell. Did you know that Peggy Guggenheim's palazzo on Canal Grande in Venice (now world famous art museum) had a history of glamorous, wealthy and eccentric owners, also before Guggenheim? This is the story of the three single women who resided there and who, in their different and daring ways, made the palazzo legendary. It is a book full of juicy stories about decadent fancy dress parties, cheetahs being kept at pets and famous artists and politicians, coming and going. A delightful gossipy read and a great gift in its striking hardcopy cover.
The Good Immigrant edited by Nikesh Shukla is a collection of essays written by 21 writers about 'what it's like to live in a country that doesn't trust you and doesn't want you unless you win an olympic gold medal or a national baking competition'. (In other words, being an ethnic minority in Britain.) Sobering reading from voices such as actor and rapper Riz Ahmed about his experiences going through airports. Or Vera Chok and Wei Ming Kam about people's assumptions that they are either very hard working students or 'mail order brides'. Food for thought.
Shark Drunk – The Art of Catching a Large Shark from a Tiny Rubber Dinghy in a Big Ocean by Morten Strøksnes is one of our favourite non-fiction books from 2017. It's the story of two friends who set out to catch the elusive Greenland shark, the largest carnivorous shark in existence. While waiting for the big catch, they swap stories about fishing, extreme weather, stunning nature, anecdotes about island life, fascinating facts about life in the oceans, art, poetry and much more. Why would this interest you? You simply have to take our word for it and we're willing to bet that you will fall in love with this book, just as we did.
And while we're on the topic of slow living, Norwegian explorer Erling Kagge's book Silence – In the Age of Noise is climbing best-seller lists world-wide. Kagge, the first person to reach the North Pole, South Pole and Mount Everest, knows a thing or two about silence. In this little gem of a book, Kagge  argues that we have lost the ability to enjoy silence. 'Silence is about rediscovering, through pausing, the things that bring us joy' writes Kagge. Perhaps Christmas is a good time to reclaim it?
The Beautiful Poetry of Donald Trump by Rob Sears. Humour is the best medicine they say, and although we wouldn't blame you if you can't stomach another word about this guy, humour might help. Rob Sears has trawled through all of Trump's tweets and public statements and somehow managed to turn them in to some very funny poems.
The Life of a Song edited by David Cheal and Jan Dalley. A collection of funny and surprising anecdotes about 50 of the world's most recognisable songs picked from the weekly music column of the Financial Times Weekend. A book of facts you didn't even know you wanted to know.
The Medicis are a bit like the Tudors, people don't seem to get enough of them. Mary Hollingsworth's well reviewed and just published The Medici is a particularly attractive version of the many books about this Florentine ruling family. Their role as patrons of the arts as a way of cementing their power is explained and illustrated through photos of the many works of art they commissioned as well as other Renaissance master pieces. A truly stunning book.
We recently stumbled upon Penguin's Great Ideas, a series of beautifully bound paperback essays from great thinkers. From Darwin's On Natural Selection, Karl Marx The Communist Manifesto, Seneca On the Shortness of Life to George Orwell's Why I Write and many, many more. Not only do they look nice, but served in small portions like this, these seminal texts somehow seem less intimidating.
Children's Books
The Lost Words (3 years+) by Robert MacFarlane and Jackie Morris is a book that needs to be seen to be appreciated, and the idea behind it is as lovely as the execution. MacFarlane, a fellow at Cambridge University, is concerned that our children will lose the language of nature as they spend less time outdoors. MacFarlane and Morris make up for it in this A5 sized book with spectacular illustrations of adders, conkers, willows, acorns and much more accompanied with poetic little explanations. We challenge you to find a child who won't enjoy this book.
La Belle Sauvage – The Book of Dust – Volume One (Teen/Young Adult). Philip Pullman new trilogy was the most anticipated children's book of 2017.  Decades after Pullman's hugely successful His Dark Materials trilogy he's back to uncover the early childhood of beloved heroine Lyra Belacqua. Prepare to be entranced by a book of big ideas that demands of its readers, curious and open minds. The hardback cover is a work of art.
Tangleweed and Brine by Deidre Sullivan (Teen/Young Adult). For thinking young women (and hopefully men), comes this dark and poetic feminist reimagining of classic fairytales. With a nod to Angela Carter, we're invited to consider the women at the heart of some of our best loved stories. Clothbound, with intricate illustrations, it's surely one of the most gorgeous YA books published this year.
The Explorer by Katherine Rundell (8-11 years). One of Bookstoker's favourite children's books of 2017, The Explorer is a gift list essential for adventure-loving readers. The story of four children's struggle for survival in the Amazon jungle, it's a colourful old-fashioned adventure, written with real verve and panache. Destined to become a classic, read it with your kids before the inevitable movie franchise arrives.
Tales of the Peculiar by Ransom Riggs (Teen/Young Adult). 'The book you hold in your hands is meant for peculiar eyes only'. Has the teenager in your life read the darkly fantastic Miss Peregrine's Home for Peculiar Children series? This complementary yet stand-alone volume, tells the tales of some highly unusual children, before Miss Peregrine takes them into her fold. Sometimes bloodcurdling, always compelling, and with glorious woodcut illustrations, this book is perfect for quirky teens.
Here We Are by Oliver Jeffers (Baby and toddler). The perfect gift to welcome a new baby into the world this Christmas. Written as a guide for the author's newborn son, it's a charming exploration of the oceans, skies, and the many peoples and animals that share Planet Earth. Beautifully illustrated, wise and touching, it makes for a great start to a child's home library.
Cookbooks
The Little Library Cookbook by Kate Young. '100 recipes from your favourite stories' is the sub-title of this scrumptious cookbook which takes you on a culinary journey through some well-known novels. How about one of Elena Ferrante's Neapolitan pizzas? Or a sticky marmalade roll from CS Lewis' The Lion, the Witch and the Wardrobe? Or perhaps a bloody 'robber steak' from Bram Stoker's Dracula?
Sweet by Yotam Ottolenghi and Helen Gho. No introduction needed for this food writer, I suspect. Anyone who's been in, or even just passed, one of Ottolenghi's shops in London will know what a treat this book will be. His window displays of cakes and biscuits are legendary. I predict that will happen to this cook book as well.
I've been through pretty much every single recipe of Sabrina Ghayour's Persiana from a few years ago and her most recent book Feasts looks just as good. Packed with mouthwatering Middle-Eastern recipes and stunning photos, this is a fabulous gift to any cook. Recipes are not complicated and ingredient lists not overwhelmingly long.
Happy Christmas from all of us at Bookstoker!