Here's our selection of books for the summer. Some light beach reads, some a bit more challenging, all excellent books. Click on the book titles for our full review. Happy summer from all of us at Bookstoker!
Light beach reads…
At the top of our list of recommended summer reading is Morten Strøksnes' non-fiction book Shark Drunk: The Art of Catching a Large Shark from a Tiny Rubber Dinghy in a Big Ocean. It's the story of two friends in a small boat on a nearly impossible mission, but it's also a lot more than that. It's about oceans, fishing, extreme weather, stunning nature and island communities. There's a bit of art, poetry and history thrown in as well. It's a book that you'll savour long after you've read it, thanks to Strøksnes' interesting facts, memorable anecdotes and soothing narrative voice. We've been lucky enough to interview Strøksnes, a Norwegian journalist, photographer and author who has written a number of non-fiction books and won several prizes in Norway and abroad for Shark Drunk.
Stay With Me by Ayòbámi Adébáyò. Yejide and Akin fall head over heals in love when they meet at university in Ife, Nigeria in the 1980s. Marriage follows soon thereafter as should babies, but none arrive. The humiliation of childlessness propels Yejide, Akin and the tenacious mother-in-law to go to extreme lengths to fix it, jeopardising their mental health and relationship on the way. I was gripped by 26-year-old Adébáyò's storytelling, despite her sometimes uneven writing. An easy, accessible novel that should garner many fans.
Golden Hill by Frances Spufford. New York, a small frontier town on the tip of Manhattan Island, 1746. One rainy autumn night, a mysterious, handsome stranger, fresh off the long Atlantic crossing from England, turns up at a counting house on Golden Hill Street in Manhattan. The enigmatic young man has a suspicious yet compelling proposition. From his pocket, he produces what seems to be a promissory note for a thousand pounds that he wishes to cash. An enormous sum of money in 1746, this bill has the power to shake the whole local economy as well as the political establishment. And, amiable and charming though Smith is, he won't explain who he is or where he comes from, let alone what he is planning to do in the colonies that requires so much money. Golden Hill is a meticulously researched and cleverly plotted first novel and a thrilling and pacy read.
A Gentleman in Moscow by Amor Towles. It's 1922. We are in Moscow's most distinguished hotel and one of its permanent guests, the unrepentant aristocrat Count Alexander Ilyich Rostov, has just been sentenced to a life in exile inside the hotel 'never to set foot outside of The Metropol again.' So starts A Gentleman in Moscow, a novel that it's nearly impossible not to fall in love with, a true, yes I will say it, feel good story. It's not going to change your life, but Amor Towels' book (also author of Rules of Civility) will entertain and delight with wonderfully crafted characters and enviably elegant writing.
The Cazalet Chronicles by Elisabeth Jane Howard. The books follow the fortunes of a grand English family from 1938 until the 1950s. Dominated by a formidable elderly couple, known affectionately as 'The Brig' and 'The Duchy', the family includes three sons and their respective wives and children; various maids, cooks, gardeners and drivers. This is an upstairs/downstairs saga in time-honoured English fashion – although it is by no means a vanilla treatment of privileged upper class life. Under the controlled surface are pain, loss, passion, adultery, and unfulfilled desires played out against the backdrop of war. The experience of reading the Cazalet series (The Light Years, Marking Time, Confusion, Casting Off and All Change) is like stepping into a warm bath. Comforting, life-affirming, immersive – and you absolutely don't want to pull the plug.
A bit more to chew on…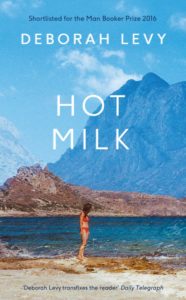 Hot Milk by Deborah Levy. Rose and her daughter Sofia arrive in a small Spanish fishing village – a strange, dreamlike place caught between the searing heat of the desert and the mesmerising pull of the sea. They are desperately seeking medical help and salvation. Rose suffers from a mysterious, inexplicable illness, which presents in spontaneous, spasmodic paralysis of her legs and has left her wheelchair bound. Her daughter, Sofia, has spent her life trying to understand her mother's illness, trapped in an unhealthy co-dependent relationship and forced to act as her bemused carer. The mystery of this undiagnosed illness forms the background of the entire novel. Deborah Levy's hypnotic novel explores the fragile bonds of parenthood and lays bare the suffocating intensity of familial bonds.
Darke by Rick Gekoski. Meet English teacher James Darke, a 60-year old grumpy, selfish, snob, as cynical, judgemental and politically incorrect as they come. Darke has decided to close the world out – literally – starting by drawing the curtains in his house, filling in the mail slot in his door and cancelling his email account. There are no limits to what Darke will do in his quest to be left alone, and that includes pretending to be deaf so he won't need to talk to people. There is, of course, a reason for Darke's dark behaviour, which, as it's slowly revealed, turns out to be far from funny. If you, like me, enjoy dark humour, the occasional unpleasant character and many-layered stories, this book is for you.
I'd Die For You and Other Lost Stories by F. Scott Fitzgerald. This is a beautifully produced scholarly edition of 18 of Fitzgerald's short stories, none published in his lifetime. Varying in length from three pages to thirty, these stories are peopled not so much with the glamorous but damaged Jazz Age characters familiar to us from his novels but with a poorer, sadder, post-Depression cast including drunks, travelling salespeople, hypochondriacs, divorcing couples, movie producers, starlets, has-beens, and – overwhelmingly – the unwell. The best of these stories glitter with the author's wit and familiar ability to demolish a character's pretentions in a sentence. The others, more plodding, will appeal nevertheless to Fitzgerald fans for the light they shine on his preoccupations and problems, and for the glimpse they afford into the seedier side of 1930s small-town American life.
The End of Eddy by Edouard Louis. Wow! What a punch of a book. Eddy Belleguele grows up in a dirt-poor working class family in the north of France. Realising early on he's gay, Eddy spends the rest of his youth trying to hide his sexual orientation from the macho, homophobic, misogynist and racist environment he's born into. The End of Eddy is an extraordinary autobiographical novel of survival and courageousness and a truly magnificent book.
And here's what some of the newspapers are recommending.
New York Times: Books to Breeze Through This Summer
New York Times: Summer reading recommendations from 6 Novelists who Own Bookstores
Washington Post: 37 Books we have Loved So Far in 2017
The Telegraph: Six Books You Should Definitely Take on Holiday This Summer
We wish you all a wonderful summer!
The Bookstoker Team