News by Julie
Top tips for bookish presents
Let us help you with your Christmas shopping. At the click of a button your shopping list could evaporate! We have handpicked the best of fiction, non-fiction and children's books. There are books on architecture, history, neuroscience and wood chopping. We have selected funny books, sad books and romantic books. All of them are books we have loved or are dying to read.
Merry Christmas!
Michèle and Julie
FICTION
The Ladybird Books for Adults by Jason Hazeley and Joel Morris.
These retro books – a revival of British classic children's series from the 1960s  – made us howl with laughter. Written for adults with titles such as The Ladybird Book of Dating, The Ladybird Book of The Hangover or The Ladybird Book of the Mid-Life Crisis, the books are complete with 1960s drawings and appropriately worded text, if not exactly content. The ideal stocking filler.
Penguin Clothbound Classics by various authors.
These decorative, luxuriously clothbound classics will make your bookshelves stand out. There are 47 different books to choose from by authors like Charles Dickens, Leo Tolstoy, Oscar Wilde, Mark Twain, Jane Austen, I could go on and on…Absolutely gorgeous and a very special present. I want them all!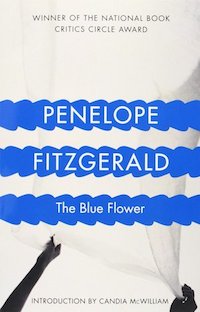 The Blue Flower by Penelope Fitzgerald.
An exquisitely written historical fiction book, has been the discovery of the year. It's based on the true-life love story between an 18th century German philosopher and poet and a young girl. Fitzgerald's writing is light, funny and authentic. The perfect present to anyone who enjoys first class writing and historical fiction. I'm hooked on her now so on my list of Christmas reading is Fitzgerald's Innocence, a love story set in 1950s Florence amongst the penniless aristocracy. How can I resist?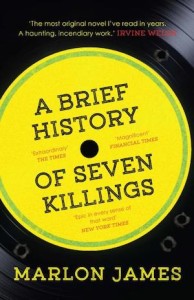 A Brief History of Seven Killings by Marlon James.
The 2015 Man Booker Prize winner and their most unconventional choice, probably, ever. It's a story that spins out of the real life assassination attempt on Bob Marley in 1976 and takes you on a whirlwind tour through Jamaica's violent history of the 1970s and 80s. A Brief History of Seven Killings is not a book for the faint-hearted: swearing, drugs, killing (a lot more than seven) is so prominent that the Chair of the Booker Prize judges admitted he would never give it to his mum. Nor is it an easy book, with multiple voices, a large cast of characters, patois dialect and nearly 700 pages. But – it's probably worth it!
Dancing in the Dark by Karl Ove Knausgaard.
The fourth instalment in his six volume My Struggle series. The 18 year old Knausgaard moves to a tiny village in the far north of Norway to work as a teacher, but finds himself spending far more time worrying about how to lose his virginity. The author continues his brutally honest self-exposé in what's regarded as the funniest of the six books.
This story of a love triangle involving three anthropologist exploring tribes in the jungle of New Guinea is based on anthropologist Margaret Mead's life. Sexual jealousy and intellectual rivalry keeps the heat up between the three competitive protagonists, culminating in a dramatic ending. On the top of my Christmas reading list.
Gorsky by Vesna Goldsworthy.
A contemporary Great Gatsby-esque story, featuring Russian billionaires in London. Goldsworthy unashamedly follows the storyline of F. Scott Fitzgerald's great classic (one of my absolute favourites so I was a bit wary…), but it works! It works because of Goldsworthy's beautiful writing, her succinct take on extreme wealth and our fascination with Russian oligarchs. Gorsky is a delicious read, the kind you gulp down in a couple of days.
A Whole Life by Robert Seethaler.
A little gem of a story about 'mountain goat' Andreas Egger and his quiet but fulfilled life in a small Austrian alpine village. Beginning at the start of the 20th century, Andreas' little hamlet is transformed by war and modern life. Incredibly moving (yes, I shed a tear), romantic (in an unassuming way) and just wonderful. Fans of Stoner will love this contemplative book.
NON-FICTION
Persiana: Recipes from the Middle East & Beyond by Sabrina Ghayour.
Our new favourite recipe book. Mouthwatering, uncomplicated recipes with new interesting flavours abounds in this stylishly designed cookbook. How does Spice Perfumed Shoulder of Lamb sound to you, for example? Or what about Cinnamon and Citrus Almond Pastry Cigars or Persian Bejewelled Rice? Truly delicious and the perfect present for your foodie friend.
Hidden Treasures of London: A guide to the capital's best kept secrets by Michael McNay.
Stumbled over this gorgeous looking book at my local bookseller. A perfect gift for anyone interested in London's history and sightseeing. It's too large to be carried around as a guide book, but a great resource for those keen to discover London off the beaten track, with beautiful photos and short, informative text. Makes me want to head off to see Leighton House or the most bizarre pub in London, the crypt-like Black Friar.
Norwegian Wood: Chopping, Stacking and Drying Wood the Scandinavian Way by Lars Mytting.
Our bookseller was right in predicting that this book would become a best-seller. It's now beating Jamie Oliver to the top spot on the bestseller list in the UK. Norwegian Wood is a non-fiction book about chopping firewood. Stacking firewood. Drying firewood. But more importantly, it's about nature, patience, persistence and appreciating the small things in life. A perfect backlash against all things fast.
Margaret Thatcher: The Authorized Biography, Volume 2: Everything She Wants by Charles Moore.
Love her or loathe her, but no one can argue about Margaret Thatcher's lasting impact on British society. Charles Moore, who was asked by Thatcher in 1997 to write her biography, has spent the best part of his career researching and writing this monumental work. He has interviewed no less than 277 people and has had unparalleled access to people, correspondence and archives in the U.K. and abroad. A perfect present for your father-in-law.
Artist Living with Art by Stacey Goergen and Amanda Benchley.
A very New York collection of predominantly American artists and the artwork they hang in their homes. An eclectic mix in situ, it's always interesting to see what books writers are inspired by and by the same token what artists hang on their walls. A fun gift for the New Yorker or art-lover friend.
SPQR: A History of Ancient Rome by Mary Beard.
The hugely popular historian Mary Beard's book has got rave reviews, all round, for this comprehensive work. Beard who frequently appears on television, radio and in the press has a gift for transforming heavy historical material into something fun and engaging. A gift for the history fan in your family.
London: Architecture, Building and Social Change by Paul L. Knox.
A beautiful coffee table book that takes you around all the streets of London with insights into the social development of the city through its architecture and the history behind the buildings or streets. But, with lots of photos and interesting little facts, the book never feels ponderous or text-heavy and the format makes it easy to dip into, even just to quickly read a paragraph about the street you are standing on now.
The Brain: The Story of You by David Eagleman.
Neuroscience for dummies by the rockstar of neuroscience. Eagleman, author of Sum: Tales from the Afterlives and many other bestselling books on this fascinating topic, has the enviable ability to explain incomprehensible things in a comprehensible manner. With plenty of real life anecdotes, illustrations and layman's language, this book is for all us science neophytes out there.
CHILDRENS' BOOKS
Historium (Welcome to the Museum) by Jo Nelson and Richard Wilkinson.
If you got Animalium last year, and Maps the year before, you will want to get the matching Historium. A wonderful oversized companion to the other two, it is an exploration and a marvellous history mapping of ancient civilisations though this collection of objects. Age 7+.
A Christmas Carol (with A Christmas Tree) by Charles Dickens, illustrated by Robert Ingpen.
What better way to introduce your children to Charles Dickens than through this wonderfully illustrated version of his Christmas classic? Scrooge is a tight-fisted, old grump and the biggest fun sponge around, but that's about to change… Dickens' language is archaic and this book might be best read out loud by and adult, not a bad way to spend a dark December evening… Age 9+.
Pierre the Maze Detective: The Search for the Stolen Maze Stone by Hiro Kamigaki.
A kind of Where's Wally mystery book, each millimetre of the pages are covered with illustrations paired with a challenge for young detectives. Re-addressing the gaming term 'next level' this appeals to our low-fi appreciation of creativity and imagination. Age 8+.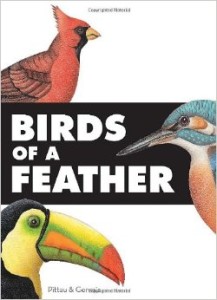 Birds of a Feather, The Open Ocean and Out of Sight by Francisco Pittau and Bernadette Gervais.
Although not new, these beautifully produced books always make a wonderful gift. Simple but fascinating: one of the double pages identifies the birds by its eggs! Lift up flaps engaging even the youngest readers, while the information relevant enough to be an adults' favourite too. Any age.
Peter Rabbit's Christmas Collection by Beatrix Potter.
Peter Rabbit is a reliable classic to share with the younger generation, and this Christmas edition of Beatrix Potter's collection of stories is a present they will pass onto future generations. Beautiful Christmas card illustrations, previously unpublished, and Emma Thompson's The Christmas Tale of Peter Rabbit are included. Age 8-12 years.
The Letter for the King by Tonke Dragt.
The 1960s Dutch children's classic, which has sold more than a million copies worldwide, is a medieval fantasy extraordinaire. The 16 year old squire Tiuri goes on a dangerous journey to deliver a secret letter to the King, which can save his kingdom. Although this plot might sound frighteningly familiar, this book is a notch above the rest and has hooked children and adults for almost 60 years. The sequel The Secrets of the Wild Wood has just been published in English, but start with this first. Age 10+