News by Julie
Hot tips for summer reading.
It's almost upon us. Summer holidays and time to read. But what to choose? We have suggestions for you – from light beach reads, to epic tomes and literary classics. Take your pick and enjoy!
Light Beach Reads…
The Girls by Emma Cline – We weren't so hot on this book but it will be everywhere this summer so you'd better know about it at least. It's the story of a young girl who gets caught up in a sinister Charles Manson like cult in California in the 1960s. The book is not completely without merits but I felt the story was let down by her fragmented writing style which became annoying after a while. Full Review.
All the Light We Cannot See by Anthony Doerr – This 2015 Pulitzer Prize winner is the story of a blind French girl and a German soldier whose paths collide in occupied France as both try to survive the devastation of World War II. An ingenious plot told in compelling prose and beautiful imagery. Unputdownable and perfect for long plane journeys. Full review.
The Trouble with Goats and Sheep by Joanna Yates. A light and enjoyable novel following 10 year old Grace Elizabeth through the neighbourhood's secrets, enlightenment, an other revelations. Some nimble nuggets of insight into the prejudices and solidarity within a 70s suburban street while she perseveres on her 'search for Jesus'. Flawed, but certainly cleverer than it seems at first glance. Full review.
A Hologram for the King by Dave Eggers. A delightful, light and funny read to pack on your holiday! The story of 54-year old Alan trying to put his life back on track by taking on a project to sell new hologram technology to the King of Saudi Arabia. Not only funny but also a book with astute observations about life, relationships and the world we live in. Full Review.
The Reflection by Hugo Wilcken. A modern thriller with a proper appreciation for the noir of the 40s, this book is a mind-bender that trips you back and forth through a monochrome kaleidoscope of existence and mental disorder. Caught in a web of confusion, a psychiatrist stumbles from one incident to the next, amidst the twist and turns of mistaken identity and questioning his own sanity. Leaves you guessing until the last (a clue! no…a red herring! no… a clue…!!), and distinctly baffled long after. Full review. 
A bit more to chew on…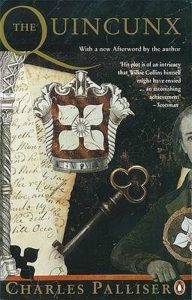 The Quincunx by Charles Palliser. We can't think of anything better than getting sucked into an all-consuming fictional universe that goes on and on… At 1200 pages, this is not a short read but it's so good that you'll be upset when it's all over. The novel takes the form of a Dickensian mystery set in early nineteenth century England. It's brimming with everything you'd expect to find in Victorian London: mansions and graveyards, a nightmarish insane asylum and a cruel boys school. Beggars, prostitutes and villains appear alongside a suffocatingly rigid class system. One of the best historical novels I have read. Full review.
The Sympathizer by Viet Thanh Nguyen. I'm puzzled why this excellent Pulitzer Prize (2016) winner has received more publicity that it has in the UK. A funny, original and beautifully written satire on post-Vietnam America, through the eyes of a Vietnamese refugee, who also happens to be a spy for the Viet Cong. Rarely have American double standards, displacement, issues of identity and cultural imperialism made me laugh so much. Full Review.
The Vegetarian by Han Kang. Many of you will have heard of this book by now, the 2016 winner of the International Man Booker Prize. It's a truly original and wonderfully weird story of a young woman's break down. This book won't be everyone's cup of tea. It's darkly funny and just plain dark, claustrophobic and eerie. But if you enjoy weird, this is of the premium kind and a book that will leave you with plenty to chew on. Full review.
Hygiene and the Assassin by Amelie Nothomb. A wonderfully translated piece, it zings and bounces with satisfying accuracy, which alone makes this book a 'must read'. It centres primarily around an interview of the cantankerous and pernicious Nobel Laureate, Prétextat Tach, by the female journalist, Nina. After a slew of failed (male) attempts, Nina manages to match this obese and postulating intellectual in a war of thought and a battle of rhetoric. I found the philosophising duel of wits wonderfully unique, immensely clever, and absurdly humorous. Although I was a tad lukewarm about the ending, the first half is worth reading twice over and I would urge it on anyone looking for a light, funny, intelligent read. Full review.
Books we will be reading…
Michele's list
Books Burn Badly by Manuel Rivas (translated by Jonathan Dunne). Described variously as 'poetic', 'haunting', 'bold', 'moving', 'warm' and with an 'irrepressible humour', this much acclaimed book is set under Franco's rule in in the late 1930s at the time of the Spanish civil war. I'm looking forward to what looks like a promisingly meaty read.
Rush Oh! by Shirley Barrett. A great summer read that sucks you in on the first page. The awkward narrator quickly establishes her dry humour and a self-conscious awareness but there seems to be an undercurrent sense of some dire foreboding ahead. We shall see. A light and an easy read but nothing frothy about this novel so far.
The Course of Love by Alain de Botton. De Botton's second novel in 20 years, makes this a must read for me. I've always found his insights fascinating and perceptive but his first novel overall left me cool, so I'm more than curious about about The Course of Love.
Arthur & George by Julian Barnes. This is my audible read for the summer. I'm already a fan of Julian Barnes and so far this does not disappoint. 'Arthur' is the successful Dr. Arthur Conan Doyle, who determines (and succeeds) in doing his own detective work in order to exonerate 'George' Edalji. Based on the series of events in the 19th century, known as the 'Great Wyrley Outrages', I'm finding it simultaneously good on all levels: as a mystery, a cleverly crafted combination of fiction and fact, and a perfect summer read.
A Murder Most Unladylike by Robin Stevens. Perfect light read for 13 year olds and up. Extremely easy reading but not for younger readers given the topic. I gobbled up the first book which was 'romp' around a very British girls' boarding school in the 30s littered with boarding school vocabulary and recognisable, if caricatured, characters. Immensely amusing antics of Daisy Wells &Hazel Wong. Looking forward to reading the subsequent four in the series!
Meg's list
London and the South-East by David Szalay. I adore the title of this book and have loved everything I've read so far by this brilliant, very English novelist. Szalay writes insightfully and with devastating honesty about relationships and emotions. The Independent Review.
A Little Life by Hanya Yanagihara. I've just been given the paperback of this much-lauded book about love and friendship. Will it live up to the hype?
The Silk Roads by Peter Frankopan. Frankopan explores the forces that have driven the rise and fall of empires, determined the flow of ideas and goods and are now heralding a new dawn in international affairs. This hugely ambitious history book is meticulously researched. I'm hoping it lives up to its claim of being a new history of the world! The Independent Review.
The Handmaid's Tale by Margaret Atwood. A modern classic and a spookily prescient dystopian novel about the perils of religious fundamentalism and misogyny. Great for teenagers as well!
Julie's list
The Essex Serpent by Sarah Perry. Following the death of her husband, Cora Seaborne and her son leave Victorian London to start a new life in the country. In Colchester, Cora, an amateur naturalist, gets drawn into rumours about a man-eating serpent and joins up with local vicar Will Ransome to disprove them. I'm well into this book now and loving it! Suspect this book is in line to become a big summer hit. Reviews are glowing! FT review. The Independent review.
Heroes of the Frontier by Dave Eggers. Calling all Dave Eggers fans! His new book will be coming out this summer (26th of July in the UK). It's the story of a mother and her children on a journey through the Alaskan wilderness in an RV. What initially appears to be a holiday, turns out to be more like a 'run' from their life. I'm about to receive a review copy and will let you know. Pretty much guaranteed to be funny.
The Gene: An Intimate History by Siddhartha Mukherjee. A very well-reviewed and accessible yet intelligent non-fiction book on genes from the author of the Pulitzer Prize winning The Emperor of all Maladies. Mukherjee's perspective is both scientific, historical and personal. Looking forward to this one. The Guardian review.
The Go-Between by L.P Hartley. A young boy becomes the messenger in his friend's older sisters illicit love affair. Set in a English stately home during a long hot summer, this portrayal of class, loss and desire is an ideal summer classic that I'm really looking forward to!
Haven't found what you were looking for? Here are more summer reading ideas from some of our favourite newspapers.
…and some interesting reflections around the idea of a 'beach read' from The Guardian.