I can't think of a better year to turn to plastic-free, (relatively) low carbon footprint Christmas gifts like books. They generate hours and hours of pleasure, can be enjoyed over and over again, can be given away and are recyclable. We have thought long and hard about which books we think will make good gifts and here is our selection for Christmas 2019. Spread the love!
Fiction
2019 hasn't stood out as an amazing year for fiction. Some of the highly anticipated books such as Margaret Atwood's The Testaments, Ian McEwan's Machines Like Me or Colson Whitehead's The Nickel Boys, didn't quite deliver. We did find some treasures, though, and here they are.
Fleishman is in Trouble by Taffy Brodesser-Akner is funniest book I've read this year, hands down. It's the story of Toby Fleishman, recently abandon by his wife, navigating the world of online dating. Brodesser-Akner's portrayal of neurotic 21st century parenting, teenage obnoxiousness, Manhattan competitiveness and, most of all, marriage is priceless. The book takes a more serious turn towards the end and raises some profound questions around marriage and gender politics. I'm still debating with myself whether or not the two parts work together as a whole. For the laughs alone, though, this book will be worth your time.
After a year of research including first-hand testimonies from survivors, Edna O' Brien confronts us with the imagined traumatic fall-out from a schoolgirl's kidnap and rape by Boko Haram in Nigeria in 2014. Girl is a work that sharply distils language into a reduced and banal form, journalistic in its savage editing and brutal in its delivery. It's a lesson in resilience, shows how glimpses of happiness illuminate a dark world and champions the resourcefulness of women.
Celestial and Roy are two young black newlyweds, he an executive with a promising career ahead; she an up-and-coming folk artist. Something terrible happens and they are torn apart for five years – their lives unravel and they question everything they thought they knew. An American Marriage by Tayari Jones is a book about racism, toxic masculinity and gender expectations, injustice and betrayal – and manages to be both cynical yet optimistic. It's also a deserving winner of this year's Women's Prize for Fiction.
Two pages into The Porpoise by Mark Haddon I was utterly hooked and only emerged bleary-eyed a day later after what felt like a roller-coaster ride. The book interweaves a contemporary story with one from antiquity, and whereas that might turn some of you off, it really shouldn't. The Porpoise is first class, breakneck paced storytelling. A sort of literary Mission Impossible.
My literary discovery this year has been American author Ben Lerner. I loved Leaving the Atocha Station, a refreshingly original, intelligent and funny story about a young American poet adrift in Madrid. Lerner's second novel, 10.04, was equally well reviewed in the press. Just published is his latest novel The Topeka School. His best yet, if reviews are to be believed, this book has prime position in my Christmas reading pile.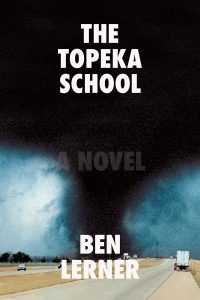 Our reviewer Johanne has written about several translated books for us this year with a special focus on her native Norway. Why not give the gift of a collection of books as an introduction to another country's literary culture? Here are some of her top choices. Love by Hanne Ørstavik (National Book Awards Finalist), The Birds by Tarjei Vesaas, the best Norwegian novel ever according to Karl Ove Knausgaard, Unquiet by Linn Ullman, a fictionalised autobiography by Ingemar Bergman's daughter and, just out, Winter Stories by Ingvild Rishøi.
For the Fleabag addict in your life who didn't get enough by watching the TV-series: here is the script in its entirety, including stage directions and commentary by Phoebe Waller-Bridge. Whether you feel this is milking it or not, Waller-Bridge's writing is probably hilarious enough to be enjoyed twice. I found myself laughing out loud in the bookshop after only half a page, and I've seen it all before.
Non-Fiction
It's been a stellar year for non-fiction and we have enjoyed moving nature writing in Things That Are by Amy Leach; three books on complicated family situations: the best-selling Educated by Tara Westover, a genetic surprise in Inheritance by Dani Shapiro and the story of a family 'caught in the half-life of empires' in A Stranger At My Table by Ivo de Figueiredo. Two books connected to the Second World War also made an impression on us: a Prix Goncourt winning account of some chilling events leading up to the war in The Order of the Day by Eric Vuillard and an Anne Frank style story of a Jewish family hidden by a Dutch family in Bart Van Es' The Cut Out Girl. All fantastic books.
When I read this fabulous autobiography a few years ago in its original paperback format I was yearning for photos of Patti Smith and Robert Mapplethorpe's eccentric clothes, hip friends and cool New York hangouts. This year, someone read my mind and published Just Kids in an illustrated version. Can't think of a better gift for anyone remotely interested in New York City as the creative Mecca of the 1960s, the photography of Robert Mapplethorpe, the music and poetry of Patti Smith or all of the above. (PS make sure you pick up the illustrated version.)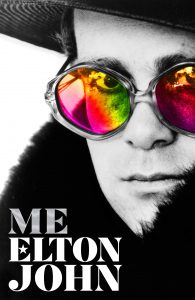 Most pop star autobiographies out there are pretty rubbish but not this one. Then again, few pop stars have lived a life quite as wild and entertaining as Elton John. Coinciding with his last ever worldwide concert tour which started in 2018 and will finish in 2021, comes Me, his autobiography. 'Outrageously enjoyable' says The Guardian, 'Ghoulishly funny' says The New York Times. What are you waiting for?
And while we're on the topic of fandom, for those still missing David Bowie, Bowie's Books is a wonderful collection of essays written about books that Bowie, a voracious reader, read as inspiration for his music and how to live his life. O'Connell suggests music tracks to be read while reading each book. Sounds like a nice evening in.
On a more serious note, 2020 will be a crucial year in fighting the climate crisis. To inform, educate and inspire people to do something about it, we have chosen some excellent books that do just that. Don't worry, these books are not all doom and gloom, they also offer practical solutions and inspiring visions of how to solve mankind's biggest challenge. The Uninhabitable Earth by David Wallace-Wells, No One is Too Small to Make a Difference by Greta Thunberg, We Are the Weather by Jonathan Safran Foer, Client Earth by James Thornton and Drawdown by Paul Hawken.
Julian Barnes' latest book The Man in the Red Coat  is irresistible for its sheer beauty alone.  Published on thick luxurious paper with lavish illustrations and John Singer Sargent's seductive portrait of the protagonist himself on the cover, this book screams to be given away. It's the true story of the French surgeon and gynaecologist Samuel John Pozzi but ultimately a portrait of La Belle Epoque period in Paris. A feast for the eyes and the mind.
Many of you will have seen the excellent TV-series Chernobyl, but did you know there's an equally brilliant book about that accident? Chernobyl – History of a Tragedy by Serhii Plokhy won the Baillie Gifford Prize (formerly Samuel Jackson Prize) for non-fiction last year and is penned by someone who was there. Plokhy, who lived 500km downstream from the nuclear reactor, describes the accident itself but also its long-term ramifications. Nobel Prize winning author Svetlana Alexievich's Voices From Chernobyl, which the TV-series is partially based on, is another worthwhile read for those wanting to know more.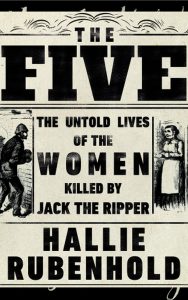 The Five – The Untold Lives of the Women Killed by Jack The Ripper by Hallie Rubenhold just won the Baillie Gifford Prize 2019. Social historian Rubenhold wanted to give the victims of the infamous serial killer a face and debunk the myth that they were all prostitutes (only two of them were). They were simply women that had fallen on hard times and for whom society offered no protection or help whatsoever. Expect Dickensian hardship. Can't wait to read this myself.
I 'm not an expert on cookbooks but I do love them and have an ever increasing collection. I can't help rummaging through the shelves at my local specialist bookstore Books for Cooks in Notting Hill and here are the books that have caught my attention. The big trend this year is, not surprisingly, vegetarian cookbooks. We have Indian food and a love letter to Bombay in Dishoom by Shamil Thakrar, vegetarian food in Bazaar by one of my favourites Sabrina Ghayour, Jamie Oliver's first vegetarian cookbook Veg and Donna Hay's stunning Week Light which is not strictly vegetarian but has a focus on vegetables. I want them all!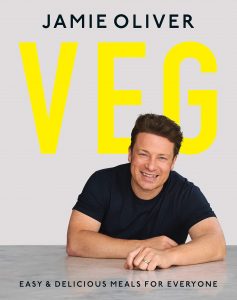 Children's Books
We were thrilled to discover this beautiful new gift edition of The Iron Man by Ted Hughes, one of our greatest modern fairytales. Taller than a house, the Iron Man first appears at the top of a cliff, the wind singing through his iron fingers. His rapacious appetite strikes fear into human hearts as he consumes anything metal in his path. Hughes' powerful tale of the 'monster' and his transformation from dark destroyer to potential saviour of mankind is enhanced here by the striking and atmospheric illustrations of Chris Mould. 5-8 years
Do you struggle to get your kids to sleep at night? Try The Sleepy Pebble and Other Stories: Calming Tales to Read at Bedtime by Alice Gregory and Christy Kirkpatrick, a soothing collection of bedtime stories co-written by a sleep specialist and children's writer. Relaxation and mindfulness techniques are woven through each tale. For example,young readers are encouraged to visualise the Sleepy Pebble tucked up on the seabed under a blanket of thick seaweed to keep him warm. Combine this with your most soothing reading voice and gorgeous illustrations from a palette of the softest hues. We'd love to hear from successful parents. 5-8 years.
Set in the 1920's New York of gangsters and speakeasies, The Good Thieves by Katherine Rundell spirited heist novel centres on young Vita Marlowe and her bid to avenge a terrible injustice. The prize-winning Rundell specialises in extraordinary and free-thinking children, the type to be found dancing on rooftops or navigating the Amazon in her previous novels. This particular bunch of extraordinary kids are up against ruthless mobsters with brilliantined hair and cigar-induced rasps. A fabulously rich and exciting read. 8-11 years
Anatomicum: Welcome to the Museum by Jennifer Z. Paxton & Katy Wiedemann. Now here's a marvellous book for enquiring minds. Presented as a museum in book form, your 'Admit One' ticket can be found on the inside cover. Open all hours, the Anatomicum Museum is for the kind of reader who wonders what the inside of their body looks like, or would like to witness their skin cells growing. A feast of anatomical knowledge, the production values are sky high, with parchment thick paper and intricate illustrations. A gift to treasure. 8-11 years.
Tim Marshall is a foreign correspondent with several decades experience and this invaluable book Prisoners of Geography: Our World Explained in 12 Simple Maps is the young readers version of his 2015 bestseller of the same name. The land on which we live has always shaped us. Via regional maps, pictures and contextual text, Marshall demonstrates how societies have often been bound by their physical geography, and how this relates to the big issues of war, wealth distribution and economic power. As a lucid and accessible introduction to geopolitics, this is splendid brainfood. 8-11 Years.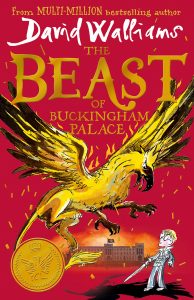 In the light of recent news events in the UK, The Beast of Buckingham Palace by David Walliams, is stuck with a rather unfortunate title. Thankfully the beast in question here is of the mythical variety, as Walliams dips his toe into the world of Fantasy. Set in a dystopian London in the year 2120, this is Prince Alfred's story. Dark forces are at work in Buckingham Palace, and sickly, bookish Alfred must summon his inner hero and confront the threat, not only to the royal family, but ultimately the entire world. A sure crowd pleaser for his squillions of fans. 8-11 Years.
Goodbye Perfect by Sara Barnard is simply the most riveting YA read of 2019. It's the story of Bonnie, a 15-year-old schoolgirl who runs away with her music teacher. Best friend Eden is the only person who knows where they are, a burden which becomes unbearable as the consequences of their illicit relationship ripple outwards, from family to police to full-blown media furore. An intelligent exploration of the contemporary teen psyche, this is a novel of pace, depth, and the thrill of the forbidden. Teen/ YA.
The Poet X by Elizabeth Acevedo. Xiomara is voluptuous, but sadly not unashamedly so. At the age of fifteen, she has never been kissed, and now that her baby fat has '…settled in D cups,' there are plenty of male admirers hoping to change that, a fact that horrifies her pious mother. Trapped in the chrysalis of adolescence, Xiomara feels that her body takes up more room than her voice, and in this searing Carnegie Prize winning novel, attempts to discover her own words and story. The Poet X by Elizabeth Acevedo is an extraordinary read. Teen/YA.
'This wasn't how I imagined being dead…' The victim of a fatal car crash, Beth is dead but not departed. Instead her ghost is lingering by her widowed father, unwilling to leave him in his lonely devastation. Beth's dad, a police detective, is the only person who can see and hear her. Embroiled in a murder investigation, he will come to rely on Beth's budding talent for supernatural sleuthing. Catching Teller Crow by Ambelin and Ezekiel Kwaymullina is a uniquely Australian novel, weaving indigenous history into a clever metaphysical thriller. Teen/YA.
Still looking? For more inspiration try…
New York Times 10 Best Books of the Year
Best Books of the Year by the Financial Times
The Best Books of 2019 by The Guardian
The Best Books of 2019 by The New Yorker
The Best Books of 2019 by The Evening Standard