If you're lucky enough to have a voracious teen reader in your life, then you'll already know what I'm about to declare. Young Adult literature rocks these days. No more sad bookshop shelves offering three Sweet Valley High novels and a dusty Judy Blume. Walk into any large bookshop and you'll find thousands of YA titles stretching into the striplit yonder (and they're not all vampire books!) In fact, the diversity and quality of contemporary YA writing makes reviewing new titles a real treat.
Here are a handful of Bookstoker's favourite picks of YA books for the summer.
In Paris With You by Clémentine Beauvais. This clever and elegant story reimagines Eugene Onegin and really captures the intensity of young love. Written in verse form (an impressive trend in YA) it's a dazzlingly sophisticated read.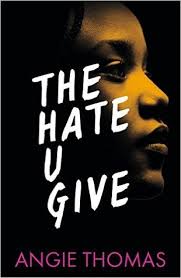 The Hate U Give by Angie Thomas. In a white-dominated publishing industry, YA fiction has traditionally had a diversity problem. Thankfully that's changing, and here, inspired by the Black Lives movement, we have an electrifying debut novel of injustice and police brutality in a black American community.
What Would Boudicca do? by Elizabeth Foley and Beth Coates. Surfing the very welcome wave of feminist literature in recent years comes this irreverent advice guide. Everyday problems are tackled by inspirational women in history, as they become your very own agony aunts from a bygone era. Fun and feisty.
The Colour of the Sun by David Almond. This is simply one of the best teen novels I've read in years. Interweaving bereavement, coming-of-age, and the natural world into a captivating story, the writing was so beautiful it moved me to tears.
Mind Your Head by Juno Dawson. Here's a book we feel no teenager should be without, a guide covering all aspects of mental health. Packed with tips and information, it's warmly conversational, never patronising, and will become a personal counsellor residing on your teen's bookshelf.