What are the best books for summer 2018? We're thrilled to present our summer reading list. A list full of great reads for every mood. Funny and sad, light and heavy, it's all here. Happy summer from all of us at Bookstoker!
Bestsellers
Our first two books are topping bestseller lists at the moment. See what we thought about them before joining the herd.
Circe by Madeline Miller. If you cast your mind back to school you may remember Circe as the witch on whose island Odysseus and his crew washed up on their long journey back from the Trojan War, and wasn't there something about turning men to pigs and, um, did Odysseus have an affair with her? If you have ever wondered why she lived alone on that island, what made her a sorceress, what happened to her after Odysseus left her to go back to his wife – indeed if you have ever wondered about the reality behind the headline story of any woman who plays a bit part in the (hi)story of men – you have an absolute treat in store with this book.
Eleanor Oliphant is Completely Fine by Gail Honeyman. Eleanor is a woman who has elevated living alone to an art form. Her days follow the same pattern week in week out – a dull office job, the Telegraph cryptic crossword, the Archers, a regular chat with 'Mummy', no friends…and two bottles of Tesco vodka to get through the weekend. She is clearly not fine at all, and the novel is an investigation into why she is not fine, and what happens when she deals with her terrible past and finally allows herself to thaw. This is an enjoyable feel-good book with a page-turning narrative and a good deal of heart, but sometimes it lays on the lessons with a trowel. I can't help feeling there might have been a more subtle way of doing this.
Something light
The Lido by Libby Page. The story centres around famous South London landmark Brockwell Lido which (only in the novel, don't panic) is under threat. Like many council amenities in London it is expensive to run, so when a property development company makes an offer with a view to redeveloping it into luxury flats, a Brixton journalist joins forces with an old lady and a group of local characters to campaign to save it. There's nothing new or stand-out special here but somehow this manages to be a happy heart-warming book. Featuring stock characters and an abundance of clichés, it also encompasses some of the big themes that several books of the moment (Eleanor Oliphant I'm looking at you) favour. Loneliness, anxiety, community spirit and kindness all make an appearance with a dash of gentrification issues and activism.
Something funny
I'm always on the look out for funny books and they are, generally, far and few between. Then suddenly four dumps on my desk! I've really enjoyed these darkly comic novels, there's so much truth and humanity in them.
Wilful Disregard by Lena Andersson. Ester Nilsson, respected poet and writer, has spent too much time being an intellectual and too little being a human. Everything changes when she falls head-over-heals in love with successful artist Hugo Rask. But how will Ester reconcile her critical/analytical brain with her biological urges? And what are Hugo's intentions? Is he looking for love or just someone to stroke his ego? I was engrossed by Andersson's intelligent and wickedly funny portrayal of the nature of relationships. A book for anyone who has loved without being loved back.
Less by Andrew Sean Greer. Arthur Less is having a massive mid-life crisis. His last book proposal has been turned down, his boyfriend Freddy of eight years has dumped him only to announce he will marry his new beau instead. And if that wasn't bad enough, the big five-O is lurking on the horizon. What to do? Escape seems the sensible option. Greer's book, which won this year's Pulitzer Prize, gets off to a bit of a slow start but picks up once Arthur hits the shores of Europe. A perfectly pitched comic portrayal of other cultures through the eyes of an American. I grew fond of anti-hero Arthur, his insecurities and fumbling efforts to rebuild his life. A heart-warming, funny and original read.
Shyness and Dignity by Dag Solstad. Meet Elias Rukla, teacher of Norwegian to a bunch of bored teenagers at Fagerborg Secondary School in Oslo. Elias is about to destroy 25 years of hard work and his reputation, publicly and humiliatingly, in front of the whole school. Why is Elias boiling over? Find out in this darkly funny, captivating deep dive into the psyche of a man who comes face to face with his entire existence.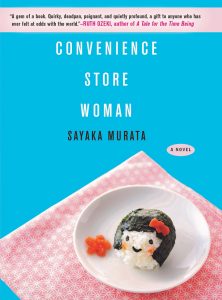 Convenience Store Woman by Sayaka Murata. Convenience Store Woman by Sayaka Murata is a rare book. Imminently readable, absurd, laugh-out-loud funny, yet profound. And it's the winner of the Akutagawa Prize, Japan's most prestigious literary award. As a child Keiko, our heroine, is different. Unnervingly so. Particularly in a society where conformity is the ideal. 'Normal' is what everyone is striving for and when Keiko starts to work in a convenience store, 'normal' seems within reach. But being 'normal' eventually involves marrying and having children, which she's not even remotely interested in. As pressure mounts, Keiko needs to find a solution.
Something a bit more serious
Mr Peacock's Possessions by Lydia Syson. In the late 1800s – a time of exploration and colonisation – a family of settlers departs from New Zealand for a remote volcanic island they have been told is uninhabited but fertile. Mr and Mrs Peacock and their six children hope to build a new home, grow crops, tend animals, and tame the wild place known as 'Blackbird Island'.  Their idyllic little corner of Eden turns out to be anything but, and when one of the children goes missing dark secrets from the past emerge and threaten to destroy them all. Mr Peacock's Possessions by Lydia Syson is a wonderfully compelling book. Highly recommended.
Home Fire by Kamila Shamsie. Winner of the Women's Prize for Fiction 2018. Two Muslim families collide in Kamila Shamsie's Home Fire; one from a wealthy, privileged, political family, the other from Wembley's poor immigrant community. Eammon, son of British Pakistani Home Secretary, Karamat Lone and his glamorous American designer wife, Terry, falls head over heals in love with Aneeka, orphaned Pakistani girl with Jihadi father and brother. Interesting premise for a story and fertile ground for moral dilemmas and culture clashes. Shamsie keeps the suspense and gripping love story moving at an impressive pace. Shame that the ending feels contrived, but still worth a read.
Go, Went, Gone by Jenny Erpenbeck. Richard is a widower and a recently retired professor of Classics. His house is quiet and his days are empty of events but his mind is active, and into this void rushes the plight of a group of refugees and asylum seekers. Having lived through the major events of the second half of the 20th Century in Germany, he is no stranger to the personal ramifications of the political big picture. This is a book that offers an intelligent fictionalised response to the refugee crisis by distilling the unimaginable scale and horror of a worldwide problem to the personal stories of a few people, played out in today's Berlin. Full of generosity and humanity, it manages to be wide‐ranging and universal and yet astonishingly simple.
Charlotte by David Foenkinos. Charlotte by David Foenkinos is a novel based on the true story of artist Charlotte Salomon, a German Jew growing up in Berlin in the late 1930s.  From a family ravaged by mental illness and suicides, Charlotte grows up in the shadow of death and depression but also with a huge creative talent. David Foenkinos' all consuming passion for his subject matter shines through in this intense little book which, as its first page will tell you, ends in tragedy.
Thrillers
Red Notice by Bill Browder. At one point, Bill Browder ran the most successful investment fund in Russia. Backed by prominent financiers, Browder's $4.5 billion fund Hermitage Capital Management achieved gobsmacking returns for its investors. Red Notice is the astonishing true story of Browder's journey from high-flying banker to impassioned human rights activist. A journey that landed him on the very top of Vladimir Putin's list of enemies. A frightening yet absolutely riveting read.
The Good Son by You-Jeong Jeong. South Korean fiction is all the rage these days and this thriller has hit the headlines. Not your usual fast paced crime novel but rather a slow-burn psychological thriller. We haven't read it but reviews are promising (and the cover, pretty powerful).
Lullaby by Leila Slimani. 'The baby is dead. It only took a few seconds.' The chilling opening line of this hugely hyped thriller about a killer nanny leaves you in no doubt about its horrific ending. And this horrible premise certainly doesn't make for an easy read. Touted as the next Gone Girl, the first of Leila Slimani's novels to be translated into English is the winner of the prestigious French literary prize, The Prix Goncourt. If you can cope with the disturbing subject matter, then it's certainly an incredibly gripping page-turner. I started it last night and finished it in one sitting.
Haven't found what you were looking for? Here's what some of the newspapers and magazines think you should read this summer.
Bill Gates Summer recommendations
Wondering which books to buy for your children? Watch out for Kirstin's post for inspiring children's books which is coming soon.
Enjoy the summer!
Kirstin, Jane, Meg and Julie