So here we are, at the end of another unusual year. I'm guessing many of you have sought solace in books as I have, although, at times I've found it challenging to concentrate and engage with books. The good news is that when the floodgates of publishing opened post-lockdown (take two), the quality of books published really picked up and recently we've enjoyed some fabulous novels which bodes well for Christmas and beyond. So here they are, our best reads this year.
We here at Bookstoker wish you all the best for a happy holiday season!
Fiction
We Run the Tides by Vendela Vida. Remember being thirteen? Or rather not? We Run the Tides by Vendela Vida will take you back to your teens the way Sally Rooney took you back to your first love in Normal People. The insecurities, dramas, hopes, lies, friendships, crushes, embarrassments; Vida reminds us what a roller-coaster of emotions puberty is through the story of headstrong Eulabee and her best friend, the bewitchingly beautiful and charismatic Maria Fabiola. Addictive reading!
The Promise by Damon Galgut. Book of the year, as far as I'm concerned. The Booker Prize winner 2021 has everything: an engaging story, interesting characters and an original style written by an author at the top of his game, in complete control of the narrative and the language. This multi-layered novel is both gripping and quietly devastating. The crumbling of the Afrikaner Swart family, living in the shadows of South-Africa's brutal history, deals with the personal and the political, in perfect balance.
Checkout 19 by Clarie-Louise Bennett. A curious and exhilarating affair, Checkout 19 by Claire-Louise Bennett was Kirstin's stand-out read of the year. In this extraordinary novel, Bennett takes the voice of an unnamed female narrator, leading the reader on a stream of consciousness trip from her school days to the present. The twist is that her life is viewed through the prism of the books she's read and how they have informed her as a woman, a reader and ultimately a writer. It's intense as hell but the reward is a read touched with brilliance and originality.
A Town Called Solace by Mary Lawson. A perfect book to cuddle up with this Christmas. This is a true feel-good story which will take you far, far away to a small, imaginary town in 1970s Ontario. A Town Called Solace by Mary Lawson is a novel about family, trust and personal dramas, big and small. Nothing earth-shattering here just a well-written, warm, everyday story which I really enjoyed.
Crossroads by Jonathan Franzen. Yes, he's back. More successfully, than last time (Purity), I think. Crossroads is classic Franzen; an American family under the magnifying glass. Set in the 1970s, with the Vietnam war thundering on in the background, the Hildebrandt family truly are at a crossroad and creaking at the seams. We have all the Franzen staples: middle-age angst, teenage angst, gossip, betrayals, jealousy, and sibling rivalry. What makes Franzen's books entertaining and readable is their relatability mixed in with comedy. The perfect long read for the holidays.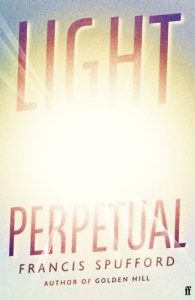 Light Perpetual by Francis Spufford. It's London 1944 and a German bomb is about to hit a Woolworths store where five young children are shopping with their mums. The first chapter of Light Perpetual by Francis Spufford describes, in harrowing detail, the moment of impact. What would have happened to those five kids if they hadn't turned to 'dust'? The novel imagines the lives of working class Vernon, Val, Jo, Ben and Alec, as their lives turns this way and that. Some succumb to mental illness, others to right-wing extremism; some have their relationships fall apart while others are saved by them. Light Perpetual is a gripping tribute to ordinary lives not lived and a love letter to London.
The Lamplighters by Emma Stonex. Arthur, Bill and Vince are the lighthouse keepers on The Maiden Rock, a remote lighthouse that rises from the sea off Land's End. One night in 1972 they all go missing, leaving two clocks stopped at the same time, a log describing a storm that never happened, a meal set for two and the door locked from the inside. The case is never closed. Twenty years later a writer sets out to investigate what really happened, by interviewing those left behind and trying to piece together what evidence remains. The Lamplighters by Emma Stonex is a beautifully evocative tale of loneliness, loss and misunderstanding.
Matrix by Lauren Groff. At seventeen, Marie is kicked out of Queen Eleanor of Aquitaine's court in France and exiled to a godforsaken abbey in the English countryside. Deemed too ugly to marry, Marie, an orphaned 'bastard' with royal blood, is stowed away for life. There's far more to Marie than meets the eye, however, and soon enough, she has turned the poverty-stricken abbey into a powerhouse. The question is: how does Eleanor feel about that?  And, anyway, are women really meant to achieve this much? If a story about nuns in a 12th century abbey sounds dull to you, think again; Matrix by Lauren Groff is an absolutely riveting read.
Effie Briest by Theodor Fontane. Not a newcomer but one Kirstin read this year which left an impression. Considering its description by Thomas Mann as one of the six most significant novels ever written, and rumoured to have moved Samuel Beckett to tears on even his fourth reading, Effi Briest by Theodor Fontane remains a remarkably little known novel outside of its native Germany.  Set in 1880's Prussia, Effi treads the well-worn path of the nineteenth century literary heroine. As an unworldly young woman in a status obsessed male-dominated world, her story tells of a stifling marriage of convenience. Prepare for adulterous downfall and a classic interpretation of the expression 'pistols at dawn.'
Paul by Daisy Lafarge. The term taboo arrived in the Western world via the peoples of the far-flung South Pacific Islands, a noteworthy connection given that both lie at the heart of Paul by Daisy Lafarge. In this Betty Trask award-winning debut novel, we join Frances, an emotionally fragile young woman on a volunteering holiday in the south of France. Having fled from an undisclosed scandal in Paris, Frances is vulnerable and easy prey for charismatic older man, Paul. Deception is in store, of both the wilful, and blindly self-inflicted kind. An unnerving and compelling portrait of patriarchy and power, from a writer whose debut suggests a marvellous future.
The Year of Wonders by Geraldine Brooks. Another book from 20 years ago that Jane feels deserves more attention. It is 1666 and the plague reaches a remote Derbyshire village of some 360 souls. They decide to cut themselves off from the outside world in order to protect the surrounding villages. Based on a true story, Year of Wonders by Geraldine Brooks  is a haunting and poignant novel told through the voice of an 18-year-old village girl. Although published a long time ago it has, of course, extra resonance for our times.
Children's Books
Weirdo by Zadie Smith & Nick Laird (5-8 years). Stratospherically successful in their own right, here Smith and Laird have joined creative forces for their first foray into children's literature. A celebration of the unconventional, this endearing picture book tells the story of Maud, a self-effacing guinea pig, and her struggle to fit into a new home where her dress-sense and demeanour utterly baffle the family pets. A gorgeously illustrated lesson in assertiveness from the gentlest of domestic rodents.
Slow Down: Bring Calm to a Busy World with 50 Nature Stories by Rachel Williams (5-8 years). 'What is this life if, full of care, We have no time to stand and stare?' The words of W.H Davies' famous poem resonate throughout this beautiful book. Williams asks our children to take time out from the whirl of their lives and just focus on everyday lovely moments in nature. Each subject is blessed with a double-page illustration; dew drops collecting, a squirrel burying an acorn, an ocean wave as it forms, crests and breaks. A gift to inspire curiosity and mindfulness.
Everything Under the Sun: a curious question for every day of the year by Molly Oldfield (5-11 years). This 'beautiful celebration of children's curiosity' derives from Molly Oldfield's award-winning podcast of the same name, attempting to answer mind-boggling questions from children across the world. Containing a question and answer for every day, there are some real humdingers. What noise do giraffes make?  How do our bodies make earwax? What would we do if we didn't have a prime minister? Vibrantly illustrated, this is a fabulous fount of knowledge for fizzingly inquisitive young minds (and a great relief for their clueless parents!)
The Shark Caller by Zillah Bethell (8-11 years). This unique and imaginative novel is one of our stand-out reads of 2021. Set in Papua, New Guinea, it's the tale of a young orphan named Blue Wing. Privy to the magical secrets of the ocean, Blue Wing is intent on learning to call the sharks to her side, and in particular, Xok, the notorious shark that haunts her days. A stunning portrait of bereavement, the nature of time and memory, and the wisdom of letting go. Keep tissues at hand.
Gangsta Granny Strikes Again by David Walliams (8-11 years). This year, Walliams' annual festive offering takes the form of an eye-popping crime mystery. A sequel to the much-loved Gangsta Granny, it picks up Ben's story a year after the death of Granny, who fans will recall had been leading an extraordinary life as an international jewel thief. In this impressively daft comic novel, Ben is once again drawn into the world of the high-class heist. The high-octane plot careers around London and is joyfully unpredictable. Bet you never thought you'd meet the Queen in your local late-night kebab shop!
Explanatorium of History by DK (10-14 years). Telling the story of 'us,' this stunning encyclopedia makes a great gift for young history buffs. Unlike the dry, text-heavy tomes of yesteryear, modern kids' encyclopedias are a visual treat. This 'explanatorium' is packed with photos and illustrations, catching the eye as a means to engaging the brain. It takes us from the very earliest humans to our 21st century selves, spanning a history that includes the rise and fall of empires, war, scientific revolution, and the human impulse for art and spirituality.
How to Change Everything by Naomi Klein (Teen/ Young Adult). 'It's never too early to let politicians know that you're paying attention.' Inspired by the current wave of Gen Z climate campaigners, seasoned activist Klein gives us a how-to guide for teenagers wishing to dip a tentative toe into campaigning or take more direct action. With the aid of children's science writer, Rebecca Stefoff, Klein explains the compelling history, science and politics of climate change and shares her decades of accumulated wisdom. Includes notes and resources aplenty for the young crusaders in your life.
Tomorrow is Beautiful: The perfect poetry collection for anyone searching for a beautiful world by Sarah Crossan (Teen/ Young Adult). This excellent anthology is aimed at teen readers in need of a comfort blanket of verse. Crossan's intro explains how reading has guided her through dark times, describing poems as 'beautiful word-cures,' an accurate and lovely phrase! Poetry helped her to heal and it can help you too. Focused on positivity, Crossan's selection spans centuries and styles and in a decidedly un-precious way, each page has space for scribbled notes or the reader's own attempts at poetry. An uplifting and thoughtful gift.
Here's what others are recommending.
Where to buy